I am realistic. I expect miracles

.

~Wayne Dyer
As we enter into the winter holiday season, we become especially mindful of all the joys of the season. I feel though, that everyday is a blessing. We should expect great things from our everyday lives, no matter what the time of year. For me, family, good friends, pets, delicious food, and of course, books offer daily opportunities for miraculous happenings!
Take time today (and everyday) to read something great!
Here is a fabulous suggestion for something great to read . . .
Here is an inspiring true story about an abandoned kitten who makes a small town library his home. If you don't already, Dewey Readmore Books, a loveable cat will have you believing in miracles!
Picture book version.






Librarian, Vicki Myron (with Bret Witter) tells the story of Dewey the Library Cat in this heart-warming true story.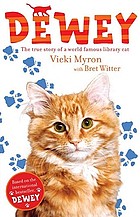 A version for middle grade readers.

Dewey's Christmas adventures are featured in this holiday picture book.